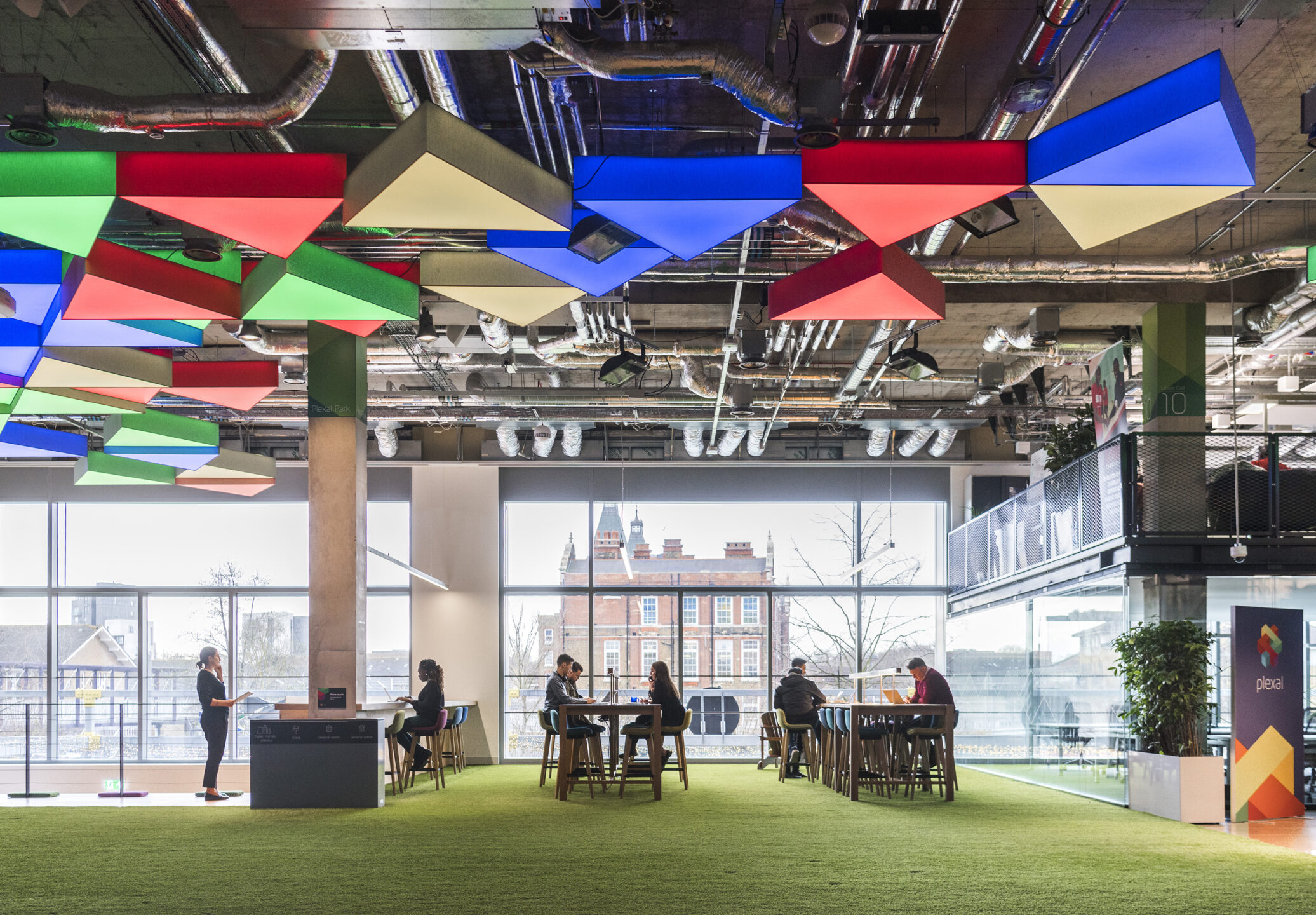 In 2017 Delancey founded Plexal, an innovation company and co-working space that supercharges collaboration
Plexal started as the 68,000 sq ft co-working space at Here East in Queen Elizabeth Olympic Park. Today it's that and much more. As well as being home to over 120 east London small businesses, Plexal has grown to be an innovation company that works with some of the biggest government departments and global technology firms to deliver on their goals for change and progress.
When Plexal began in July 2017, it was a key part of the regeneration of the London 2012 Olympic Games legacy. A co-working space that aimed to support startups and local businesses and be a catalyst for collaboration – between Plexal members and the wider Here East community.
Stepping beyond the physical coworking space model, Plexal now operates across three locations ­– London, Cheltenham and Manchester – ­and has a team of 50 people supporting all areas of the business from workspace operations and events to sales and the innovation consultancy.
In the last five years, Plexal has become a national innovation company, delivering projects for some of the most influential government departments like the Department for Digital, Culture, Media and Sport and the National Cyber Security Centre and global tech companies including IBM and Amazon Web Services.
Government-led innovation
Plexal describes its approach to innovation as government-led. It intimately understands the objectives of government and policymakers. And knows how technology can help to meet those goals and solve some of the biggest challenges facing society today.
Plexal's tried and tested way to solve these challenges is through collaboration and shared missions. And that's how it finds itself at the centre of a tech ecosystem that spans government, industry giants, startups, investors and major academic institutions.
It carefully coordinates these groups to run activity like accelerators to support startups to grow their businesses, and enables government and industry bodies alike to create new products or stimulate whole markets to emerge.
For example, in 2018 the government wanted the UK to grow its capability in this area. Five years on Plexal has run four major cyber accelerator programmes helping 270 startups across the country to grow their businesses – many of them go on to sell to or partner with government or private sector companies. Plexal's LORCA programme alone helped startups raise £270m in funding, generate £40m in revenue and has created over 700 jobs.
As societal, political and economic needs continue to evolve, so too does Plexal. It remains engaged with its past but, crucially, is focused on the future and the positive role that innovation and technology will play in supporting global change.
Plexal is committed to integrating ESG best practice into all its business activities. For example, Plexal champion equality, launching their Community Respect Charter in 2021, and delivering unconscious bias training and events supporting founders, women in business and LGBTQ+ members. As a delivery partner for the East London Inclusive Enterprise Zone (ELIEZ), Plexal Stratford is now also accessible for people with a range of seen and unseen disabilities and is shaping the future of inclusive innovation. Plexal and Disability Rights UK, together with Sport England, host events to showcase the growing evidence base of Disability Rights UK's Get Yourself Active programme.
In addition, Plexal employees are offered one paid volunteering day each year and support their co-working community of over 800 members. One member in particular, BADU sports, is supported with the space and resources needed to help them deliver for their community. Plexal has played a pivotal role in providing BADU with the space and resources needed to them to deliver to their community. During the pandemic, Plexal provided students a quiet study space for those whose home environment was not conducive to remote learning.
Plexal is also the innovation partner for the National Cyber Security Centre, and has helped 72 cyber startups raise over £200m in investment.
Related supported organisations
East End Community Foundation
BADU Sports
National Portrait Gallery Schools & Hospitals Programme