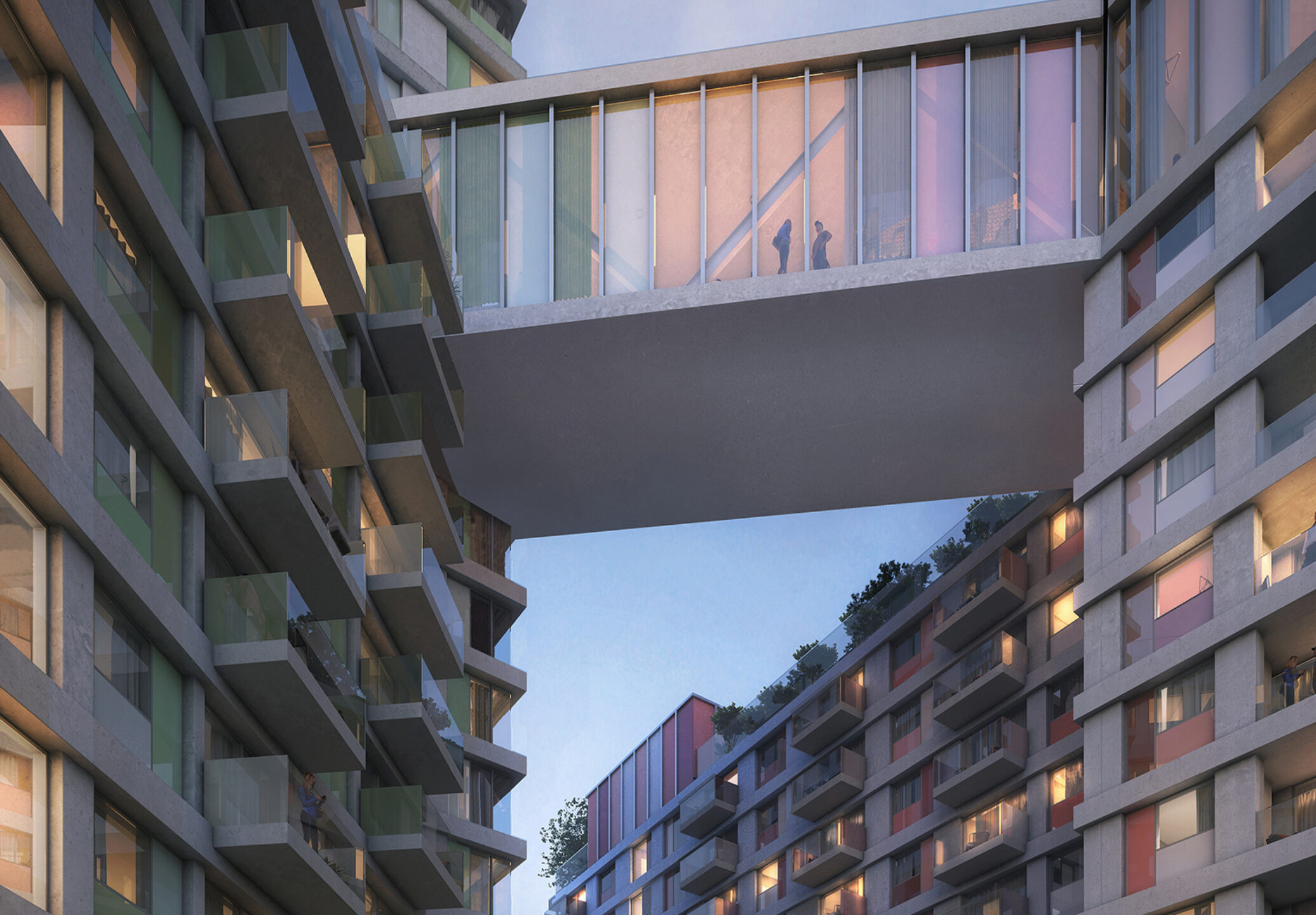 At East Village, the award-winning neighbourhood at the former London 2012 Athletes' Village, innovative new approaches to further development have set new standards for the sector.
East Village is Get Living's first neighbourhood and the first Olympic legacy housing, on the doorstep of Queen Elizabeth Olympic Park, East London. Set in 67 acres, East Village includes more than 25 acres of mature parklands, new parks and open space. Within 3,824 homes (of which 2,445 homes managed by Get Living), across 65 buildings, more than 6,500 people now call East Village home.
Delancey has been a key founding stakeholder in the creation of this award-winning residential and commercial district for London. Working closely alongside national and local Government, we were instrumental in delivering the post-Games Legacy by securing the long-term ownership, management and development of East Village.
We have sought to deliver an innovative investment strategy in London residential property. In our early formulation of these plans, we saw a looming housing crisis in the City; a lack of supply and choice for residents; growing demand from a rapidly rising population; and a changing household mix. Alongside our JV partners, we considered that delivering a partial solution to these issues, by providing large scale professionally managed rental properties, priced at a level that was affordable to average London earners, could offer a robust, long term and socially responsible investment plan for our investors.
Commitment to Long-Term Transformation & Legacy
In 2009/10, Delancey on behalf of its client fund, commenced an active dialogue with UK Government (ODA/DCMS) to acquire the Athletes' Village at London's 2012 Olympic Park in Stratford. Our interest, on behalf of a 50/50 JV with Qatari Diar (QD), led to a competitive public procurement process, culminating in a winning bid in August 2011.
As well as proving our financial credentials, we were able to demonstrate to UK Government a long-term commitment to creating London's newest neighbourhood with a business plan focused on establishing a long-term rental investment with first class asset management.
To date, Delancey has been responsible for overseeing the delivery of 2,455 residential BTR units at East Village. Most recently 1,006 new homes have been completed (482 at Victory Plaza) in 2019 and (524 at the 29 storey Portland Place) in 2022.
Highlights since 2011 have included:
Established Get Living, an in-house residential letting and management business (now including sites at Manchester, Birmingham, Maidenhead, Lewisham, Leeds and Glasgow)
Established East Village Management, to maintain all common areas and public realm, in partnership with affordable housing provider 'Triathlon Homes'
Initial homes launched in October 2013 with innovative long term, furnished rental offer, including bespoke internet provision
Get Living manages 3,918 private rental & student homes across all neighbourhoods and is set to deliver a further 1,500 over the next five years
East Village is also home to 30 independent retailers including restaurants, cafes, bars, salons, gyms and training studios as well as the 'Outstanding' Chobham Academy, a state-of-the-art NHS health centre and dentist.
Development Firsts & Innovation
This development is not only innovating thinking in community creation and placemaking, but it is also leading the way in how innovation and construction can go hand in hand, and it has set new standards for the sector.
Working with the main contractor Mace, Delancey has explored and implemented alternative and innovative ways to improve the project programme, quality control, reduce product wastage and generate innovation in Modern Methods of Construction. Building upon the success of the original Olympic plots, Victory Plaza is a twin tower development of 30 and 26 storeys which utilised the UK's first rising factory for its construction. The six-storey 'jump factory', built around the towers, created an indoor construction site – improving noise [pollution] and reducing safety risks both for the workers inside and the local community outside of the tower, and preventing environmental delays.
This thinking then evolved to deliver the next 524 new homes developed East Village. Combining the latest advances in digital technology with a new offsite manufacturing approach to construct buildings faster, safer and to a consistently higher quality, in conjunction with the developer, Mace, Portland Place is a high-rise development of twin towers, connected by a sky bridge.
The innovations implemented during the Portland Place construction project resulted in:
32% reduction of C02 emissions due to transport
25 apprenticeships
65% reduction in site water use
25% improvement on target for air pressure testing
88% less waste through pre-fab concrete
In addition to a commitment to using development and construction methods that are compatible with our ESG policy, other examples of initiatives include:
The Inspiring Communities Fund – Get Living distribute grants to support the local community togetherness
Skills and Employment – Innovative sustainable construction & adding more homes into the community on a previous brownfield site
E20 Football Foundation – Offers children, young people and adults of all backgrounds and abilities the opportunity to enjoy free football coaching at Chobham Academy in East Village
Education for Young People – The East Village community Hall, opened in April 2019, sees free and 'pay what you can' sessions running seven days a week; from Girl Guides, playgroups to yoga. In its first year, The Hall welcomed more than 6,500 local participants to sessions
SportsAid – Reflecting that sporting heritage, since 2015 Get Living have annually supported 10 promising young athletes during the critical early stages of their careers. Each athlete receives an annual £1,000 award
East Village regenerated a major brownfield site in an economically depressed borough with full mitigation for loss of baseline biodiversity and additional biological enhancement. It has the following characteristics:
is a key exemplar of rainwater management and particularly of rainwater recycling for a high-density urban regeneration scheme in the UK
places exceptional focus for a city regeneration scheme on biophilic design benefits, changing in character and intensity throughout the landscape but with no area neglected
was informed by a Site-wide Biodiversity and Ecosystem Service Strategy and Site-wide Strategy for Living Roofs from the concept design stage and is being managed in accordance with a comprehensive site-wide Management Plan, underpinned by ecological monitoring
Over the next five years Get Living's pipeline in East Village will continue to grow, with a further 1,500 new homes being delivered across plots N16 and N18/19.
East Village wins 'Development of the Decade' at the RESI Awards 2016
Get Living London awarded Landlord of the Year (Privately owned) at the 2016 RESI Awards
London Planning Awards 2014, 'Best New Place to Live' for East Village and 'Mayor's award for Planning Excellence' for East Village
Civic Trust Awards 2014, award for East Village
RESI Awards 2014, 'Development of the Year' for East Village
Sabre Awards 2014, 'Community Relations' award for East Village
London Evening Standard New Homes Awards 2014, Get Living London Highly Commended for 'Best Apartment'
London Evening Standard New Homes Award 2014, Shortlisted for 'Best large development' for East Village
What House? Awards 2014, Silver: 'Best Sustainable Development', Get Living London for East Village
Related supported organisations include:
East End Community Foundation
National Portrait Gallery
Our Parks
E20 Football Foundation
ActionFunder Inspiring Communities Fund for East Village
(launched as part of the 10 years on legacy)