Publication:
Property Week
Author:
Sebastian McCarthy
View from the top: Jamie Ritblat, Founder of Delancey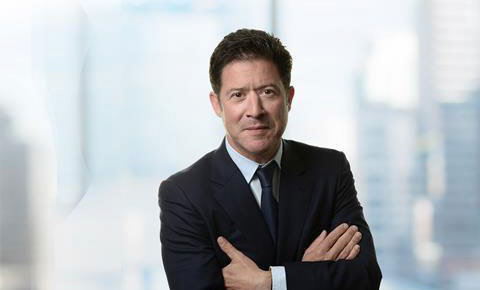 Nobody could ever accuse Jamie Ritblat of just going for the low hanging fruit.
It is now almost 10 years since the notoriously media-shy boss and founder of Delancey acquired the 67-acre Olympic Village with a view to regenerating it into the mammoth neighbourhood scheme East Village. Now, the member of real estate royalty is turning his attention to the west of the capital, where he is drawing up plans for the former Earls Court exhibition centre, which Delancey and Dutch pension manager APG bought for £425m in late 2019. In an exclusive interview with Property Week, Ritblat reveals his latest thoughts on the sprawling zone one project and looks back on the Olympic Park redevelopment a decade on. The challenges facing the controversial Earls Court site are very different from those Delancey encountered 10 years ago in Stratford and the vision for the west London scheme has undergone many revisions in the past year and a half, not just as a result of Covid.
"Our thinking has moved," says Ritblat. "What we're trying to do is create something relevant for the 22nd century. Perhaps 16 months ago, we were thinking about the 21st century, but we were not looking far enough forward." What we're trying to do is create something relevant for the 22nd century. For Ritblat, the booming life sciences and biomedicine sector is one possible area of focus. "It's certainly more along those lines than building another building for a bank or another insurance company," he says. "I don't think that's what Earls Court is about, and I don't think the people of Earls Court would think that either." The white-hot logistics sector is another area of interest. "The ability to distribute locally and quickly and efficiently is one of the great challenges at the moment," he elaborates. "How relevant is Earls Court to facilitating some sort of distribution? Highly, whether it is overland or underground."
He adds: "Urban farming is another big topic – 40 acres of central London and urban farming? Maybe. Why should the lettuce not come from that site that is five minutes away? Why does it have to come from a field 200 miles away?" Working out a vision not just for the next year but the next century is a daunting task. Perhaps that is why the self-assured Etonian seems unfazed about the more immediate impact of Covid-19. "At the start, it was a bit like a car going off a cliff," he says. "You're not quite sure what's going on. Then you have to get a grip on personal things, but also more importantly on the business, to see where the cracks are, if there are any, and make sure you deal with those as efficiently as you can."
Ritblat's own business Delancey has seemingly done so more efficiently than many of its peers. He cites the group's low level of gearing and its partnership with Tritax, launched to tap into the growth of retail warehousing, as two of the reasons for its resilience.
"We had amazing levels of rent [collection] that were miles ahead of the industry, so to that extent we haven't had any major dramas," he adds. Despite the scale of the challenge at Earls Court, Ritblat is also pondering further acquisitions although he won't divulge where. "We're always acquisitive. If there's a good deal to do then you'll do it," he says. "We're definitely looking."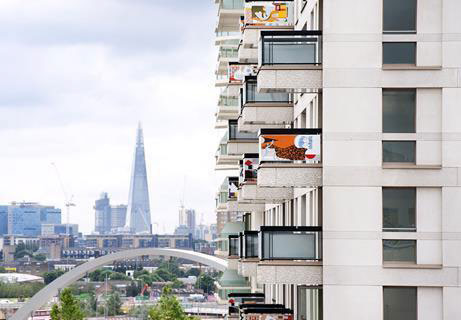 Ritblat says he is keen to find opportunities with a "needs-based purpose", citing multifamily assets as one example. "The whole multifamily business is about a need – you can't ignore the housing need and you can't ignore the fact that in order to solve the housing need, it isn't all about homes to buy," he says. "You need something else, and actually people want something else. They want a choice."
When it comes to snapping up distressed assets during a downturn, Ritblat has form. It was in the depths of the last financial crisis that he emerged from the shadow of his father, Sir John Ritblat.
Those who know both father and son say that Jamie is every bit as charming as Sir John, the former chairman of British Land, but less pugnacious in his approach to doing deals.
The human condition is to be connected. We're a herd. We like being together.
It is not just in real estate that son has followed father: both share a passion for skiing, real tennis and beekeeping. "I love [beekeeping]. We still produce lots of honey, which has been lovely," says Ritblat Jr. Now in his mid-80s, Sir John has stepped away from the property coalface, but the pair still regularly talk to one another. "He's less close to it obviously these days than he used to be, but he's always around," says Ritblat. "I probably talk to him every day if he's in London, or he might come into the office and say hello. He's a very valuable asset in more than just parental terms."
In 2011, armed with billions of pounds of equity, debt and backing from the likes of hedge fund financier George Soros, Ritblat cemented his own reputation at the top of the real estate industry with a series of blockbuster deals. First, he took London developer Minerva private, before splitting up the company and selling on its assets. Then he purchased the former 2012 Olympics Athletes Village, pioneering the private rented sector and delivering more than 3,000 homes for rent in the neighbourhood. "When we bought it, we sat there looking at ourselves saying Christ, what do we do now?" he remembers.
"It was a big logistical challenge and I can assure you it's not something we'd ever undertaken before. The team did a great job under some good leadership at the time and over the years, we've continued to improve things. We use technology more today than we ever did before." Ritblat says his team was flying around the world looking into other countries' multifamily developments because there was nothing in the UK. "In my mind, we're creating a place where people should want to live," he says. "If you create that place and get it right, they'll stay a long time. We want them to stay a long time – we don't want renting to be a transient experience."
It is not just private rental units that were developed on the Olympic Park. Delancey also created Here East, a tech campus which includes an onsite innovation centre called Plexal, which is home to a cluster of tenants from the esports, cybersecurity and creative sectors. These sectors might seem future proof but the wider office sector has nonetheless taken a hit since Covid. Ritblat argues that "offices have probably been the slowest to adapt in some senses over the last 25 years". However, he adds that Covid has paradoxically brought some welcome change. "This has been a bit of a wake-up call to landlords and tenants about the way they think about their businesses and the way they think about each other, and what the 21st/22nd century might look like," he says, adding that he remains bullish about the sector. "You've just got to stand back and look at the human condition. The human condition is to be connected. We're a herd. We like being together, with our families and friends. We gain knowledge and comfort from being with other people. It's why people go to the parks and the pubs. We're not designed to isolate and the office is a place of community." Between bankers, landlords and tenants, Ritblat says that "everyone has been collaborative to the extent that they can" during the pandemic. "While I'm a great believer in the tortoise and hare story, I think sometimes you have to hit a nut with a sledgehammer to make things shift," he says. Ritblat predicts that the shock will be relatively short-lived. "Of course we shall get some change on the margin," he says. "It would be ridiculous to suggest otherwise. But I think the bulk of it will come back strongly. "We might start a bit more cautiously on tall thin buildings as opposed to short fat ones, but I would not be very surprised, within a year's time, if it looked pretty similar to how it looked before." That's certainly the hope.