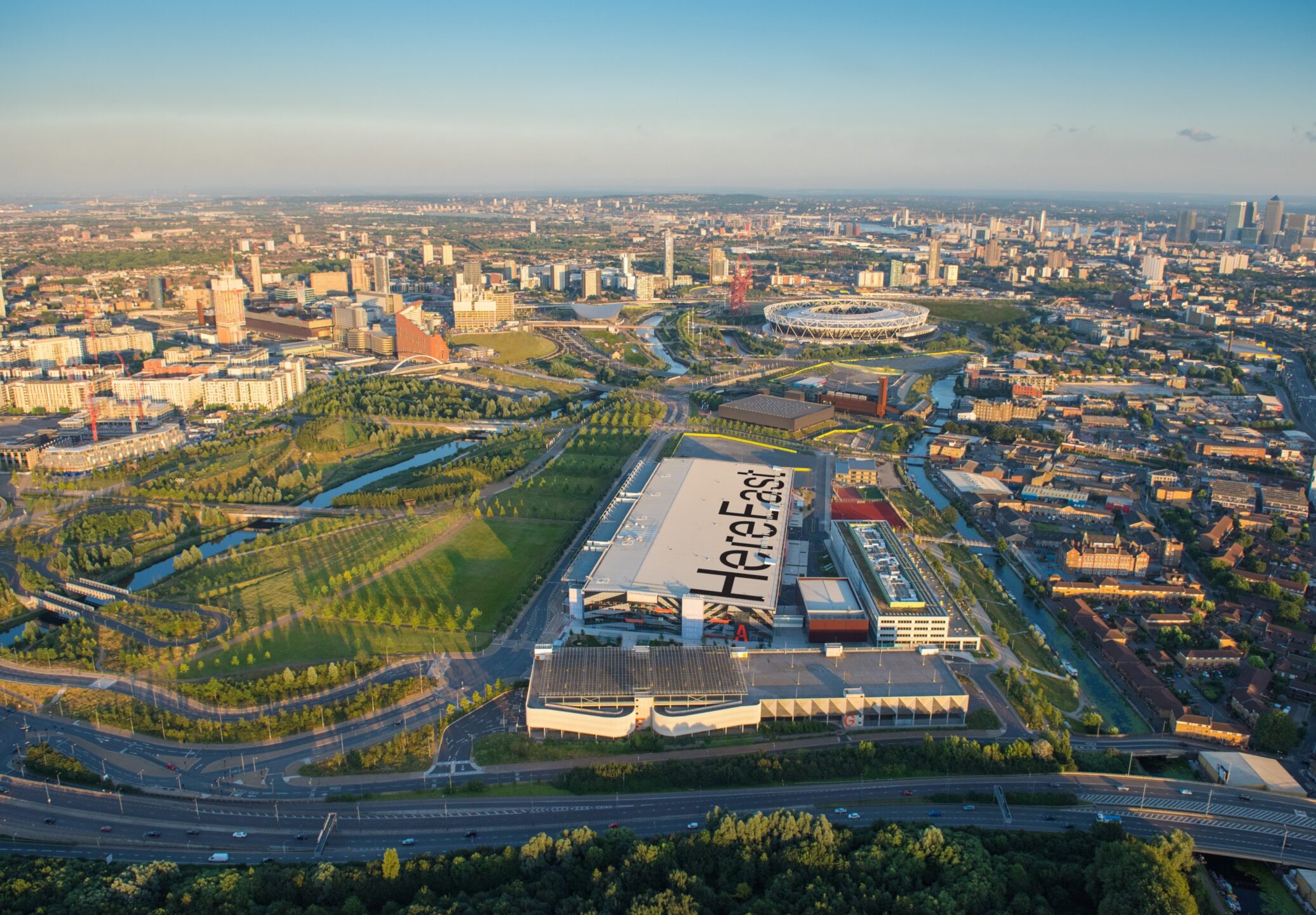 At the heart of Queen Elizabeth Olympic Park legacy, Here East is a launchpad for innovation, and home to global tech companies, start-ups, academic institutions and creative businesses, all working to build a better future.
During the London 2012 Olympics, the Broadcast and Press Centres were a 24-hour media hub reaching an estimated four billion people and providing studio space for some 30,000 journalists.
After the Games, Delancey, on behalf of its client funds, successfully bid to acquire this space through a public procurement process from the London Legacy Development Corporation (LLDC), seeing its potential to host a new innovation hub for East London. These buildings boasted unprecedented space, connectivity and power – features Here East was keen to integrate into the design of a new campus.
In March 2014, Delancey secured planning consent to transform the site into a 350,000sq ft innovation centre and office building, a 1,000-seat auditorium, and a 650,000sq ft education space hosting broadcast studios and a state-of-the-art data centre.
Building began later that year and practical completion of the redevelopment finished in 2016. Tenants now include: BT Sport; Sports Interactive (Sega); Staffordshire University London; Loughborough University London; UCL; Matches Fashion; V&A Storehouse; Scope; FIIt, and Ford Mobility.
Responsible Investment & Community engagement
Sustainability has been at the centre of design from the outset, and continues to be a core part of Here East's ethos today. The retrofitted building is an award-winning example of post-Olympic regeneration, set within 45 hectares of Biodiversity Action Plan habitat and powered by 100% renewable electricity. A roof PV array installation feeds back onsite generated electricity into the building supply to reduce its impact. A rainwater harvesting system collects rain which is used to flush toilets and irrigate the building's green terraces.
Here East also has a robust and committed approach to community engagement which it has used to help create truly valuable and measurable regeneration in East London by following four core support directives; Education, Employment, Enterprise and Environment. Working with the campus tenants and through Delancey's support Here East has made significant progress over the last few years in supporting the local community through the creation, support and promotion of employment opportunities, skills development, apprenticeship programs and education events.
Now a multi-award winning project for design, eco-system growth, social-impact and sustainability, Here East is a catalyst for growth and London's fastest-growing technology and innovation campus and continues to be a place where people, culture and ideas collide. Described by many as the most successful post-Olympic regeneration project in the world, it will continue to work hard to create a breeding ground for ground-breaking ideas and a catalyst for long-term economic growth in the area.
Alongside big names in fast-growing esports, cybersecurity and creative sectors, Here East and its innovation Centre Plexal, is also home to local artists, businesses, and designers, and prides itself in giving back to the local community. Insight days, community coffee mornings, and a full scholarship programme with Staffordshire University London and LMA for local undergraduates are just some of the ways Here East continues to work to make a positive impact on the local community.
ActiveScore certified Platinum 2022
Project of the Year at the RICS Social Impact Awards 2020
Social Impact Award (Commercial) at the 2020 RICS Social Impact Award
RIBA Award 2019 for London Award-winning buildings
Best Refurbished/Recycled Workplace' at the 2018 British Council of Offices (BCO) National Award
Building of the Year at the 2018 Architects Journal Awards
Here East wins the 'Refurbished and Recycled Workplace' category at the 2018 British Council of Offices (BCO) Regional Awards
Best Companies 2022 Top 10 companies to work for
Related supported organisations include:
East End Community Foundation
National Portrait Gallery Schools and Hospitals Programmes
Badu Sports
ECHO
Inspire
Metropolitan Police Football League