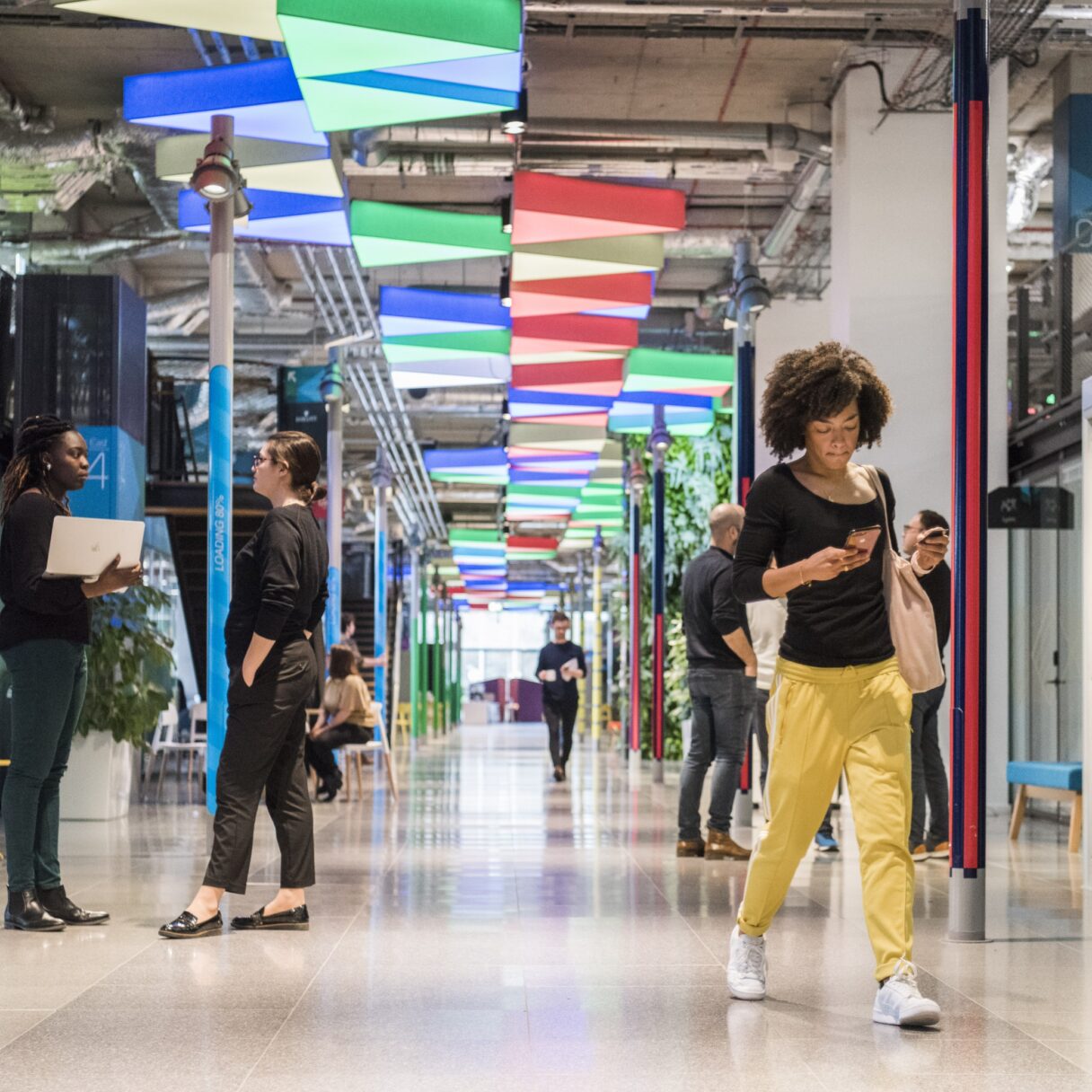 Plexal to deliver Cyber Runway to realise UK cyber innovator potential
The DCMS-backed programme will support the growth of 160 cyber
entrepreneurs, startups, SMEs and scale ups
Cyber Runway will directly address the challenges facing the sector, including diversity, regional representation and support for early-stage companies
The goal is for 30% of cyber companies involved to be female-led businesses and at least 15% of founders coming from Black, Asian and minority ethnic backgrounds
Cyber Runway is a national initiative and 50% of all companies will be based outside of London
Plexal, the innovation company founded by Delancey, has today launched Cyber Runway to accelerate the growth of at least 160 cyber entrepreneurs, startups, SMEs and scaleups across the UK.
Backed by the Department for Digital, Culture, Media and Sport (DCMS), Cyber Runway will be delivered by Plexal in partnership with CyLon, Deloitte and CSIT (The Centre for Secure Information Technologies).
Cyber Runway will replace and consolidate three DCMS-funded programmes: HutZero, Cyber 101 and Tech Nation's cyber accelerator for scaleups. It is aimed at supporting cyber startups, SMEs and scaleups across the UK and helping them turn ideas and innovations into commercial, fast-growth success stories.
At least 160 companies will benefit from the programme over the course of six months across three distinct streams based on the growth stage of the business:
Launch: Entrepreneurs will get support with launching their business, building a minimum viable product and creating a network.
Grow: Startups and SMEs will get business support to help them address their growing pains, access funding and achieve commercial success.
Scale: Scaleups will access support (including 1:1 mentoring) to help them grow rapidly in the UK and around the world.
Companies are now able to submit interest at plexal.com/cyber-runway
Supporting startups across the UK
Cyber Runway will reach tech hubs across the UK and Ireland, including Scotland, Northern Ireland, Wales and the North East, North West and South West of England. Activity will include existing and emerging cyber hubs such as Cheltenham, Manchester, Belfast, Cardiff, Glasgow and Edinburgh.
The programme will be delivered in person and virtually so startups across the UK can benefit and the goal is that at least 50% of all member companies will be based outside of London. Plexal will also work with regional partners to deliver local initiatives.
Plexal will also use Cyber Runway to address the lack of diversity in the cyber security
sector. Plexal aims for 30% of cyber companies involved in Cyber Runway to be femaleled businesses and at least 15% of founders to be from Black, Asian and minority ethnic backgrounds.
It will address and tackle the challenges highlighted by Decrypting Diversity: Diversity and Inclusion in Cyber Security, a joint report from KPMG and the National Cyber Security Centre which found that one in five respondents felt they could not be themselves at work and over 40% of Black cybersecurity professionals have experienced discrimination over their ethnicity in the past year.
Cyber Runway will support innovators from a diverse range of backgrounds by making sure inclusivity is at the heart of the programme's design. Plexal will include under-represented groups in the design and delivery of Cyber Runway and connect members with a diverse mentor pool.
Working with specialist groups that support underrepresented communities, including Seidea, WyCis, NeuroCyber, Specialisterne on the design and delivery of the programme and to encourage under-represented groups to apply
Establishing founder, investor and industry forums
Educating members on the importance of building diverse teams, tackling unconscious bias in recruitment and talent development and retention of under-represented groups
Building a diverse mentor pool featuring mentors from a variety of backgrounds, including women, people living with disabilities, ethnic minorities, neurodiverse mentors and people from a range of socioeconomic backgrounds
Plexal is also keen to hear from investors and potential mentors who come from a range of backgrounds or who focus on supporting underrepresented entrepreneurs and want to be involved.
Addressing cyber's challenges
Despite the last year seeing record levels of cyber startup investment, Cyber Runway has been designed to address some of the challenges facing cyber innovators across the UK and make sure the next generation of cyber companies has the support it needs.
According to the DCMS UK Cyber Sectoral Analysis 2021, 74% (£6.6bn) of all UK cybersecurity revenue is earned by large firms, 18% by medium firms, 6% by small firms and 2% by micro firms. There is a competitive later-stage ecosystem emerging, but investment is concentrated on a small number of high-growth firms and concentrated in London (51%) and the South East (34%).
Cyber Runway: member benefits
business masterclasses (both virtual and in person)
mentoring, engineering support from CSIT and access to CSIT's data and testing centre
technical product development support
international trade delegations
investor roadshows and the opportunity to pitch to investors
Support will be tailored to the growth stage of members to create a joined-up support system for cyber innovators in the UK. Plexal, which works with industry to solve their cyber innovation challenges, will also connect members to corporates to fuel their growth.
Plexal is supporting cyber startup innovation
Plexal is on a mission to connect the UK's cyber ecosystem and its network spans startups, scaleups, investors, academia, the government and large enterprises.
The innovation company has delivered LORCA (the London Office for Rapid Cybersecurity Advancement) for the last three years and is currently delivering LORCA Ignite, which is supporting cyber scaleups. Over the last three years, LORCA has helped cohort companies raise more than £200m in investment and generate over £37m in revenue.
Plexal is also delivering NCSC for Startups, which connects cyber startups to technical experts within the UK Government to drive innovations that can make the UK safer online.
Minister for Digital Infrastructure Matt Warman said: "The UK's cyber sector is booming and we're working tirelessly to ensure the benefits are felt by businesses and individuals right across the country.
"Our new Cyber Runway programme will help tackle barriers to growth, increase investment and give firms vital support to take their businesses to the next level."
Saj Huq, director of innovation at Plexal, comments: "COVID-19 has catalysed the need for effective cyber security across industries, and a record level of capital is being invested into the sector. But there is still a need for support for businesses at the earliest stages of their development and innovators and entrepreneurs from underrepresented communities still face barriers when entering the ecosystem.
"These are challenges we look forward to addressing with Cyber Runway by supporting the best innovators, regardless of their background or geography, to thrive and grow."
About Plexal

Plexal is the innovation business that supercharges collaboration.

It combines open, collaborative innovation with a community of fast-growth startups
to help enterprises and the government unlock the potential of technology. Plexal
works with some of the most influential government departments and global tech
companies to deliver innovation projects. These include the cross-border Rapid
Innovation Accelerator, which connected entrepreneurs in the UK and Oman, and
London RoadLab, which helped Transport for London fast-track innovation.

Plexal's cyber innovation team is also building the UK's most connected cybersecurity
ecosystem. Plexal delivers the LORCA accelerator, is the National Cyber Security
Centre's partner for NCSC for Startups and is the innovation lead for the Digital
Innovation Security Hub in Manchester. Over the last three years, Plexal has helped
cyber startups raise over £200m and earn over £37m in revenue.

Its workspace in London is home to over 800 innovators who are breaking new
ground in cybersecurity, mobility, inclusive design, healthtech, AI and more. Members
get access to community events, connections and 1:1 support designed to help them
scale. Plexal regularly partners with members to pilot their solutions, bid for business
together and enable them to build solutions with large organisations. The community
includes Fiit, the online fitness startup, Quantum technology company M Squared
and youth-led charity My Life My Say.

Plexal was founded in 2017 by clients of specialist real estate investment advisory
company Delancey.

For more information visit: plexal.com