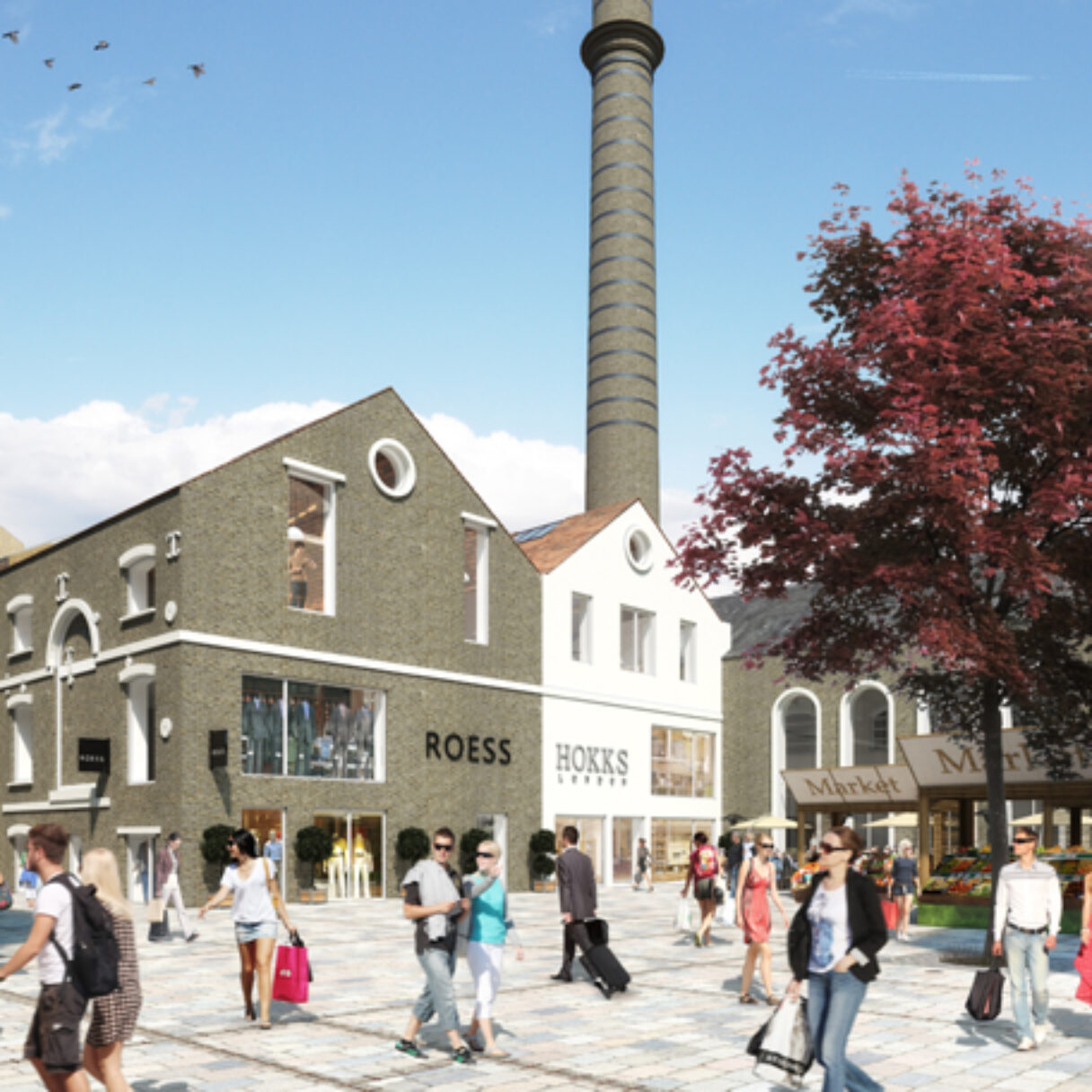 Minerva sells Ram Brewery development in Wandsworth, London successfully to China's
Minerva, the property investment and development group acquired by clients of Ares Management LLC and Delancey in 2011, has exchanged contracts to sell its Ram Brewery development site in Wandsworth, London, to Greenland Group ('Greenland'), the Chinese state owned developer. The transaction with total investment value of circa £600 million represents Greenland's first acquisition in the UK.
The historic Ram Brewery was originally acquired by Minerva in 2006 for redevelopment. The 7.75 acre Ram Brewery development is being sold with outline planning permission for 661 new homes, including a 36 storey landmark tower providing 166 flats and 9,500 sqm of commercial space for new shops, cafes, bars and restaurants, complementing the site's historic buildings which formed the original Young's brewery.
Greenland is one of the biggest developers in the world with circa 600 million sqft of large-scale commercial and residential projects currently under construction in 80 cities throughout China as well as real estate projects in Jeju in South Korea, Pattaya in Thailand, Sydney and Melbourne in Australia and New York and Los Angeles in the USA.
Paul Goswell, Managing Director of Delancey said: "Since acquiring Minerva two years ago, we have worked hard to comprehensively redesign the original scheme which culminated in planning consent being secured last December. Our strategy had been to implement the scheme ourselves, possibly with a partner, but that changed when Greenland made their unsolicited proposal. We are delighted that our efforts to date, together with Greenland's world class development expertise, will mean that this long awaited scheme finally happens for Wandsworth." 
Wilson Lamont, a Partner in the Real Estate Group of Ares Management LLC, added: "This is a huge vote of confidence for Wandsworth town centre, seeing an investor of this standing commit to delivering our development. We are confident Greenland will make a great success of it and that Wandsworth town centre will be transformed for the better."
When asked to comment on choosing London as Greenland's first stop in Europe, Zhang Yuliang, Chairman and President of Greenland Group said: "London is the global financial centre as well as the most open and diversified city that enjoys the most mature economic development, making it the first option for our investment in Europe. Due to the active trading in London local real estate market in the last two years, the average residential price rose by 10% in 2013, and the increase in demand is expected to continue in 2014. There have been more and more individual investors who favor UK market, thanks to the stable return on asset, high quality assets and sound market liquidity."
Guy Grainger, UK CEO Jones Lang LaSalle said: "We are very pleased to have been able to align Minerva with Greenland in what is a landmark transaction for the London residential market and a exceptional result for Wandsworth town centre. This deal emphasizes the strong relationships currently being created between the UK and China and further highlights London as the number one destination for international capital, both of which we see as assuring the delivery of this important regeneration project."
Jones Lang LaSalle and Savills acted on behalf of Minerva.
---
For More Info Contact:
Felicity Young
Jones Lang LaSalle
Tel: +44 (0)20 7087 5108
+44 (0)7976 323151
Felicity.young@eu.jll.com
Dido Laurimore/Jamie Robertson
FTI Consulting
Tel: +44 (0)20 7831 3113
Katharine Walsh
Head of Communications
Delancey
Tel: +44 (0)20 7448 1461
---
About Minerva
Minerva Limited, the property group specialising in real estate investment and development in the UK, is owned by Jupiter Properties 2011 UK Limited, a company owned by funds advised by ARES Capital Management and clients advised by Delancey Real Estate Asset Management Limited ("Delancey").