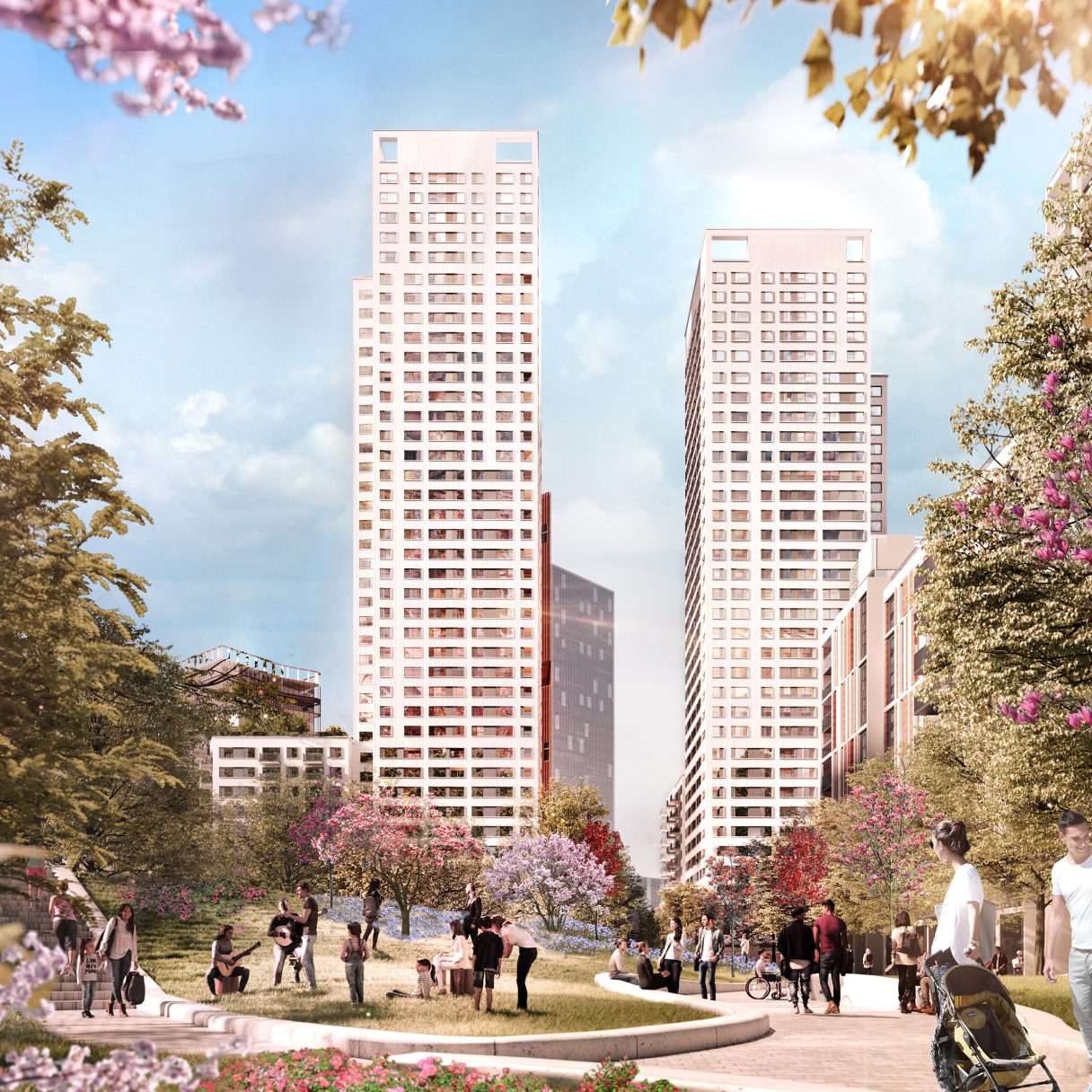 Get Living Secures Approval to Deliver 848 New Rental Homes and 504 Student Beds at East Village
Planning consent secured for three applications which form the final piece of the East Village jigsaw:
N18/19: 848 homes with high quality amenities and shared spaces
N16: 504 student beds, 35% if which will be affordable, along with a creative and cultural offer and new space for independent retailers
Public realm: improvements to Victory Park and Belvedere that will include outdoor pavilion space, a community hub, new walking and cycling routes and children's play areas
Get Living, the UK's leading developer and operator of large-scale build-to-rent neighbourhoods, has secured a resolution to grant planning consent for up to 848 rental homes and 504 student homes at its East Village neighbourhood in Stratford, London. The plans, unanimously approved by London Legacy Development Corporation (LLDC), will deliver homes ranging from studios to three-bedrooms for rent at buildings N18 and N19 and a state-of-the-art student building, designed for collaboration and creativity, to East Village's thriving creative neighbourhood.
The approval of the proposals will kickstart the delivery of the final buildings at East Village, completing the original masterplan. The area has undergone a transformation in the last decade, becoming a creative, cultural, and economic hub with a vibrant community. The neighbourhood is now home to 6,500 people with over 30 independent retailers and 25 acres of public realm open to residents and the wider community.
The three new buildings, ranging in height from eight to 40 storeys, have been designed to foster community and connections. Resident amenity spaces at N18/19 include a gym and wellbeing facilities, relaxation areas, as well as a dining event space for people to socialise with neighbours, friends and family.
Get Living has partnered with London College of Fashion, part of University of the Arts London (UAL) for over 50% of these new student homes, enabling students to learn and live in a vibrant environment. The student building, N16, responds to the growing need for student housing in Newham, which currently has a 3,700-student bed shortage. The 504 students beds will help alleviate pressure on the wider rental market and responds to the recent addition of two world class universities, University College London and University of the Arts London (UAL) at the newly created East Bank development in the Queen Elizabeth Olympic Park. Over a third (35%) of the student beds will be affordable, adding to the already significant affordable housing offer at East Village.
Plans for the ground floor space include new flexible exhibition spaces for students to showcase artwork and for community workshops, as well as commercial space for independent retailers, cafes and restaurants, adding to the established and diverse retail offering Get Living has curated at East Village.
Extensive improvements to the surrounding public realm, including the creation of 'Fashion Square' – a new square with planting, pedestrian and cycle routes – will enhance the existing public space at East Village, which includes parks and wetlands, and encourage more visitors to enjoy the area.
All of the buildings have been designed to achieve BREEAM Outstanding and Passivhaus Principles. Specific attention has been paid to the size of openings, locations of balconies and windows to create optimal energy efficiency. N16 will connect into the Olympic Park Heat Network, providing significant carbon savings and achieving net zero carbon.
Rick de Blaby, Chief Executive Officer at Get Living, said: "It is brilliant news that we have secured planning approval for N16, N18 and N19, enabling us to complete the vision that we set out to deliver in 2014 and to continue to play an important part in East London's exciting growth journey.
"As long-term stakeholders, we have seen East Village and the wider area transform over the last decade. As well as becoming home to thousands of people from all walks of life, the neighbourhood has become a hub for creativity, enterprise and learning, a place where people can come together and belong.
"The approved proposals for the new buildings not only demonstrate architectural excellence, but also directly address the local need for new, high-quality homes. With world-leading universities expanding to East Bank, the student need in the area is high, and we're looking forward to delivering a place for young people that is designed to foster creative enterprise. We hope that many of those students will choose to stay in the local area after graduating, becoming a part of Newham's thriving local economy."
Will Poole, Partner at Howells said: "We are delighted that these two significant projects have been approved by LLDC's planning committee. Together with proposals for a dramatically reinvigorated Victory Park, they mark a milestone in the completion of the pre-2012 Olympic masterplan.
"East Village is already renowned for its connectivity, green space and exceptional air quality. These proposals will deliver new homes for thousands more Londoners, adding to the diverse and creative community that has emerged here, and bringing increased vitality to the public realm.
"With residential quality at the forefront, our designs aim to set a benchmark for high density, sustainable living. In addition to exceeding the GLA's aspirational carbon targets, this means a focus on flexible working patterns, increased cycle use, and inclusive, sociable ground floors that contribute to their community.
"We are looking forward to working closely with Get Living, UAL and LLDC to deliver these exciting projects."
Work is expected to begin on site in 2024.
Howells and TP Bennett are the architects for the proposals, Cast Consultancy is the Project Manager and Quod provided planning and development services.
Get Living is the UK's leading build to rent investor, developer and operator. We provide quality rental homes in neighbourhoods that nurture togetherness, belonging and opportunity in a way that generates financial, environmental and social value for residents and shareholders alike.
Since the business was founded in 2013, Get Living's portfolio has grown to 4,000 homes for rent across three neighbourhoods: East Village and Elephant Central in London and New Maker Yards at Middlewood Locks, Manchester. Further neighbourhoods are planned or under construction in Lewisham, Maidenhead, Birmingham, Leatherhead, Leeds and Glasgow delivering 6,500 homes; with ambitions to grow the portfolio to 12,500 homes within the next five years.