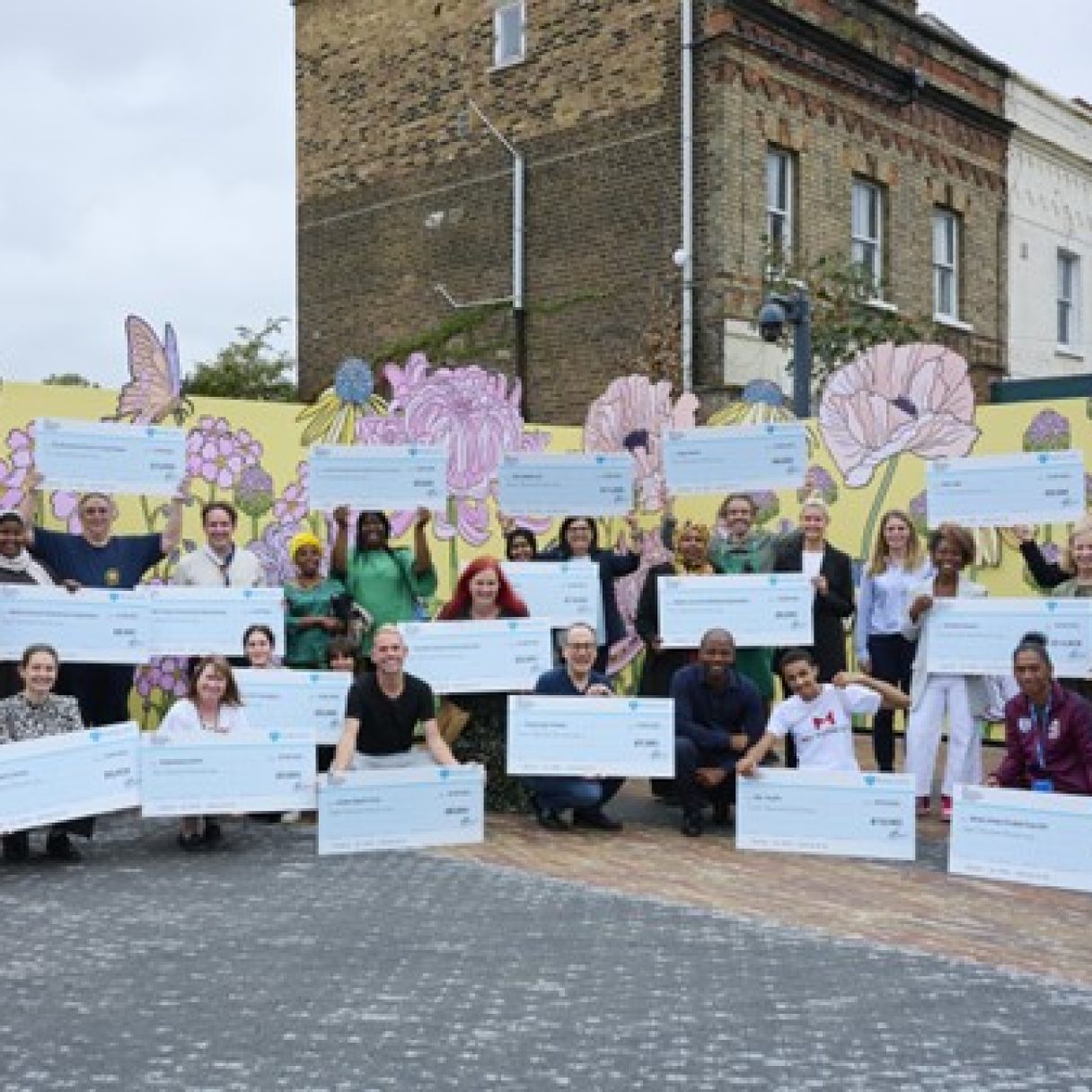 £180,000 awarded to local organisations as part of annual Earls Court Community Fund
The Earls Court Development Company has awarded 23 local organisations with a total of £180,000 as part of the third annual Earls Court Community Fund
The annual fund supports the local community in and around the Earls Court site and surrounding boroughs of Hammersmith & Fulham and Kensington & Chelsea
Since its launch in 2021, the Fund has provided financial support worth up to £360,000 to 26 charities and community groups operating in the local area
As of 2022, ECDC has delivered £7.8m of social value and £2.7m of economic impact locally
The Earls Court Development Company (ECDC) has today, Monday 2 October, announced the recipients of its Earls Court Community Fund for the third year running. As a result, 23 charities and community organisations operating in the neighbourhoods surrounding the Earls Court site will receive vital funding – amounting to a total of £180,000. The annual Community Fund provides grants that ensure local groups and organisations can continue to provide much-needed support, projects, services, and activities for the community living near to the redevelopment site.
The applicants were assessed by an impartial panel consisting of community representatives from the boroughs of Hammersmith & Fulham and Kensington & Chelsea, as well as Rebekah Paczek, the Director of Public Affairs and Community Relations at ECDC. ECDC is again supporting a wide range of communities in the area through the Community Fund, from displaced women and children to disabled, elderly and vulnerable individuals – providing aid to charities such as Doorstep Library, For Women CIC, Action on Disability and Barons Court Project.
Since taking ownership of the Earls Court site in 2019, ECDC has committed to investing in and working with the local community to drive change in the surrounding areas. As well as the annual fund, ECDC has provided events, children's holiday programs, workshops, sports activities, and volunteering opportunities aimed at assisting vulnerable families and those sleeping rough.
Commenting on the announcement, Rebekah Paczek, Director of Public Affairs and Community Relations at ECDC said:
"We take great pride in helping and supporting our local community. Over the past three years, we've witnessed the incredible impact that organisations have achieved via the Earls Court Community Fund.
We are delighted to be able to allocate an additional 23 grants this year, continuing our mission to champion local charities and organisations and assist them in reaching communities that are most in need of help and support. Furthermore, in recognition of the cost-of-living crisis and its effects on local businesses, we are glad to extend our support for businesses to include operational costs. We eagerly anticipate collaborating with the selected groups and hope to continue making a tangible difference in our local communities."
The 23 organisations that successfully applied for funding in 2023 are:
10th Fulham Scout Group – A scout group that actively engages and supports young people in their personal development, empowering them to make a positive contribution to society
Action on Disability – Charity supporting ill and disabled people of all ages living in Hammersmith and Fulham, with a free and independent benefits service
Barons Court Project – A group supporting people on low incomes who are vulnerable to mental ill health and / or homelessness
Community Education Forum – A grassroots community-led organisation that focuses on developing and delivering community-led projects to support the social, educational and economic needs of disadvantaged children, young people and families.
Dadihiye Somali Development Organisation – A charity working to improve the lives of disadvantaged, deprived, low income, underprivileged and marginalised people, those with vulnerable children and those who are socially inaccessible among the Somali community
Dad's House – A charity supporting single fathers, their children and families
Doorstep Library – A programme that recruits and trains volunteers to go into some of the most disadvantaged areas in London to help introduce children from ages 0 to 11 to the pleasure of reading and inspire them with it
Earl's Court Community Trust – An arts charity that hosts a film festival, multiple theatre productions and garden concerts, and open air film screenings for the community to enjoy
Finborough Theatre – Provides theatre productions, a programme of professional internships and volunteer opportunities and discounted tickets for residents in Earls Court and wider RBKC communities
FOR WOMEN CIC – A London based, not-for-profit organisation founded by women, for women.
London Sports Trust – A trust that aims to inspire positive change for disadvantaged young Londoners through the power of sport, training & life skills
Minaret Community Centre – A scheme that supports the Somali and West African community located in Earls Court by delivering wellbeing support groups, mental health first aid training, drop-in counselling, women support groups and signposting services
Minds United Football Club CIC – CIC brings together Football in the community and education department along with the club's other charitable and community activities.
Mo1 Youths – Youth workers aiming to support and mentor young people in West London
Mother and Child Welfare Organisation – An organisation aiming to deliver support to women facing health inequalities
Open Age – An organisation aiming to help older people and tackle loneliness and isolation in venues across the Earls Court opportunity area
Response Community Projects – A project that supports with sessions for refugees, asylum seekers, older people and those in vulnerable positions
Solidarity Sports – An organisation that offers accessible ways to bring kids together and promote good health and wellness
St Cuthbert's Centre – An open door drop-in centre for all marginalised, vulnerable people in Earls Court and the surrounding areas
The Bomb Factory Art Foundation – An artist-led, non-profit charity, founded in 2015 as an independent space for contemporary art
The Brunswick Club for Young People – An open access youth club providing children in school years 2 to 6 with a varied, challenging and enjoyable programme of physical, creative, social and educational activities in a comfortable, safe and friendly environment. The Redeemed Evangelical Mission TREM Place of our Sanctuary – A group that provides weekly food parcels to meet the basic needs of individuals and families
Urbanwise.London Limited – An educational charity that aims to empower local people to learn more about the history of the local area